Endless Summer Resort - Dockside Inn and Suites is a great value hotel with a lot of perks.
So I stayed here for a total of 5 days and really got a feel of what this hotel is like. From the check in experience, transportation to the parks to the janitorial staff. So lets go over my experience at Universal's Endless Summer Resort at Dockside Inn & Suites. One of Universal's value resorts.
Note* Universal's Endless Summer Resorts consist of two resorts located across the street from another. Hence the very long name.
First off, Google at the time didn't quite know how to get me in the right place when arriving. The app sent me to a back gate for deliveries. Now at the time the hotel was open only a few months so I guess I can understand why it did as it uses driver data to show you the best route. After scolding Google a bit I drove around the block and it re-routed me to the front entry.
Now this area gets a bit crowded during check in and check out as most do and it is a bit tight, so please be a good traveler and park on the edge. Not in the middle for 20 minutes so no one can get around. (Yes that happens a lot).
During my time in the hotel (I spent 4 nights there) I checked around for cleanliness in all the common areas, all looked very clean, well kept and organized. This place was clean and new.
Check in was very good and quick, as they had about 3 employees at the counter. The girl who checked me in was very friendly and filled me in on all the details I needed to get a good start there. You get a cool room key with one of Universal's movies as a souvenir to keep. I got a Harry Potter card, nice!
I was told about the open times of the restaurant, the bars, and the Starbucks there. I was told about the free bus transport to Universal's theme parks and to Universal's City Walk that picks up right in front and 1 hour early park entry for hotel guests. Nice perk!!
I was also informed how each room was left vacant for 3 days after check out, then cleaned by the staff, then left vacant for 7 days due to Covid. Not sure if that's good or bad, but ok.  
Walking to my room I noticed the hotel was clean, modern and well designed. This is one of the two Endless Summer Resorts Universal recently built, so it should look "new and clean". Elevator took me to the third floor and dropped me next to the vending machine/ice machine area. They also have a self-serve laundry there too.
Check in was great, no problems and I was well informed as to what they have to offer.
This hotel has a lot to offer you for the prices they have. I got a good deal in my perspective, but I did book early. The prices vary from around $100 a night off season, up to around the $200 a night during peak times. Once again book early to get the best prices. 
They have two room tiers you can rent. Standard and a two bedroom suite. I opted for the standard. The room was typical size with two queen beds (sleeps4), a very nice bathroom & separate vanity area. A 10ft by 2ft cabinet is what you use for your desk/table/dresser and had a refrigerator in it. This was sufficient enough for me, but some may need more. A small closet with hangers and a safe in it. The two bedroom suite sleeps six on three queens, has a dinner table and microwave. The night stand had USB and regular plugs for your electronics. The room was clean and smelled fine.
The beds were ok. I can't say I got a good nights sleep on them but I did sleep. They seemed too soft, the bedding came apart and bunched up quickly each night. So I had to remake the bed before going to sleep, as no maid service was available due to Covid. The room was quiet, but at times you could hear some of the louder guests as they walked by. Everything in the room worked fine, it was new.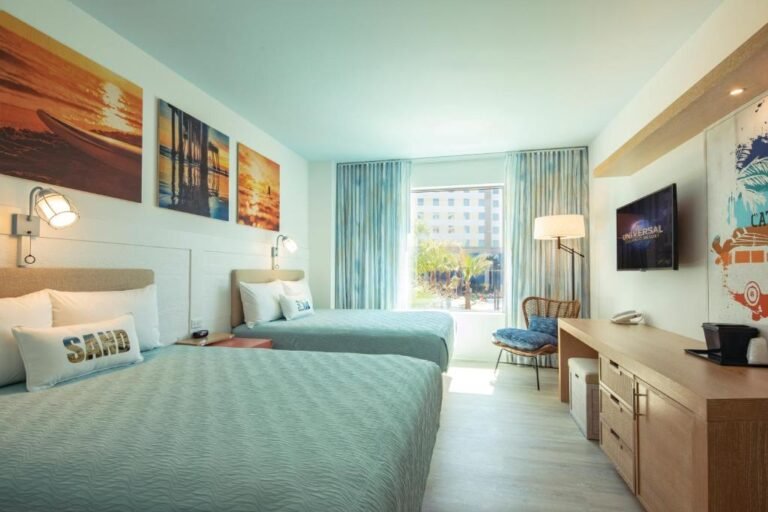 Now lets go over the Food and beverage aspect of this resort. The restaurant there is a cafeteria style place called Pier 8. They have various stations there that serve breakfast in the morning hours to lunch and dinner items too. You can find all your breakfast favorites there like pancakes and eggs, breakfast burritos to biscuits and gravy. I liked most of the choices they had during breakfast hours and indulged in the variety when there. You can find the full menu here.
Out of all the times I ate there the only food items that weren't so great was the egg muffin and the breakfast pizza.
 For lunch and dinner you can get burgers, sandwiches, salads, and full meal entrees of various items each day. You can also get grab and go items from sandwiches, snacks and drinks like water, soda and beer from the coolers.
The bars there are a nice treat, as not to many value resorts have them. The bar inside was trendy looking, the bartenders were fine, nothing special. I watched a football game there in the afternoon sitting in the lounge area of the bar. The bar top itself seats about 10 and it has a lounge area with seats and couches. The place was busy each time I went there.
The pool area has a bar as well and that's where I spent most of my resort time during my stay. Got to love a bar that's outside near a pool! The bartenders there were great. I seem to always go there when one guy was working so he got to know what I wanted and had it ready when he saw me coming. A+ for that bartender. Drinks were good as they have a few signature ones I tried, then defaulted to my go to drink later in the day.
Overall the food and drinks here at Dockside Inn and Suites were great.
Employees
The staff there was overall very good. They were attentive, friendly, willing to help you with your questions and needs.
There were a few that seemed to not like their job. Some of the restaurant staff were a bit non caring. I asked a question to a lady about one of the items on the menu and was literally ignored. Just stared back at me, so I went to the next station.
Another lady was a bit short to me due to asking her for a bit more gravy on my biscuits.
A janitor was in the elevator landing area loudly complaining about the hotel not having a service elevator, due to the guests trying to use the one he had on service only.
But the majority were great. Even the guy in charge of keeping the dinning room clean and stocked was very friendly to me.
Location
Now the  location of this resort is great. Right in the middle of everything fun. Very close to International Drive makes all the best attractions with in 15 minutes of you by car. A few of the best ones are;
Universal Studios Orlando -1 miles

The Wizarding World of Harry Potter -1 miles

Gator Golf Adventure Park – .03 miles

SeaWorld Orlando -3 miles

SeaWorld's Discovery Cove -3 miles

Icon Park – 2 miles

Walt Disney World -7 miles

Disney's Hollywood Studios – 9 miles